Essential Investment or Fad?
As technology continuously evolves around us, it finds its way into all markets, including security products. Smart locks are essentially a level up on existing locks, built to make life easier.
They bring modern-day conveniences such as keyless entry using either a combination on an electronic touch keypad, biometric access such as fingerprint scans or even mobile phone control.
The removal of keys brings about the ideal concept of never losing your keys again. Also with WiFi connectivity, the ability to lock, unlock and even open or close a door from a remote location seems very appealing.
However, all of these advanced functionalities comes at a cost. What many people forget is that these electronic devices require power to operate.
As such all smart locks run off batteries, often lithium for longer life. But eventually, these batteries will lose charge and need replacement. Of course, quality smart locks will provide low battery warnings, just make sure to act on them.
If your smart lock battery totally runs out or has some other malfunction, you have to resort back to key operation. So carrying a key with you at all times is still recommended even for keyless smart locks.
In the worst case, you will need to follow a certain process to gain access when locked out. This will change from lock to lock, so you need to make sure you research this before you buy.
Smart Locks Are Still Mechanical
It is important to note that smart locks are still mechanical. It is just that they have electronics that control the functioning so you don't have to do the physical turning of the key.
But as mentioned, it is always best to carry a key for worse case emergencies and know how to gain access to your smart lock if it does malfunction.
For this reason, we often suggest sticking with traditional deadlocks, deadlatches or other traditional mechanical locks. They never require battery changes, require software updates or have electro-mechanical motor issues.
But of course, the decision is totally up to you. As mentioned, there are many convenient benefits of smart locks and they are getting more intelligent, reliable and feature-packed with each new release.
Below are a few examples of some smart locks you may consider.
Kwikset Kevo
This is one of the first smart door locks that have been introduced in Australia. It is also one of the most innovative that you can find in the market today, making it an ideal choice for modern homes and offices.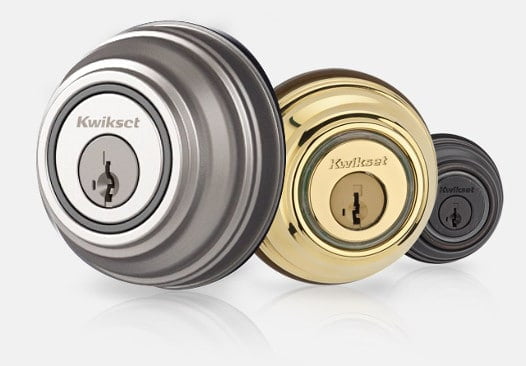 With this lock, your life will surely be easier whilst giving you the confidence that your property will be secured.
Among other things, one of the reasons this model is so popular is its Touch-to-Open technology. By pairing your smartphone to the lock with Bluetooth it will know when you are nearby.
Then all that you need to do is touch the lock with your finger, and it will automatically open up, providing keyless entry.
The good news is that you can assign multiple users, making it perfect for business establishments with multiple employees. With Smart Key and Smart Encryption technologies, unauthorised access will be a thing of the past.
Yale Real Living Z-Wave Touch Screen Deadbolt
This touch keypad makes it hassle-free on your end as you don't have to fumble around for keys. You can also choose this model with or without a key option for a more attractive design.
There is an endless list of things you will love about this product. It comes with a sophisticated design, which makes it an ideal pick for those who have modern homes or offices.
Aside from the design, it has a durable touch screen and a tamper-resistant touchpad, which increases the level of security that it can provide. The touch screen is also illuminated to make it easy to use even at night.