Security Door Locks for Home & Office
Thinking about security door locks? According to the Australian Institute of Criminology, property crime is one of the most popular criminal activities in the country. This umbrella term encompasses destruction of business establishments, household burglary, and vehicle theft, among others. Majority of the Australians are aware of this problem, and they believe that they are most likely to suffer from the same crime. For this reason, property owners in Brisbane, Logan City, and the rest of the country are intelligent enough to think of how to protect themselves.
For many, the most common thing that they do to protect their homes and offices is the use of the right security door locks. They work with a trusted locksmith to install security door locks and ensure that they will not be taken down by thieves. Nonetheless, it is important to keep in mind that not all security door locks are created the same. In this case, keep on reading and we will provide you with recommendations on some of the best options that can be taken into consideration.
Essential Factors to Consider Security Door Locks
Before we proceed with the discussion of the best security door locks in Brisbane and Logan City, let us first have a quick look at some of the most important factors that should be taken into account:
Price: For most people, they would decide on the basis of the price of the security door locks. Nonetheless, keep in mind that being cheap does not always mean being a good choice. It should be considered as an investment, which is why you should never hesitate to spend more if it is tantamount to being safer and secured.
Feedbacks: If you are clueless about which one to pick, you should go online and read reviews from other people. You can also ask around from people you personally know or call a trusted locksmith within the area for recommendations.
Style: In order to find the best style, consider the design of the place or the door where it will be placed. If the door has a light colour, darker security door locks will be an excellent choice. On the other hand, if it is dark, lighter colours will prove to be perfect.
Type of Lock: There are different types that can be taken into account. As a premier locksmith company, we will recommend mortise and deadbolt locks. These locks will provide you the greatest peace of mind.
Keep on reading and in the next part of this post, we will recommend some of the best security door locks that you can find in Brisbane, Logan City, and the rest of Australia.
Kwikset Kevo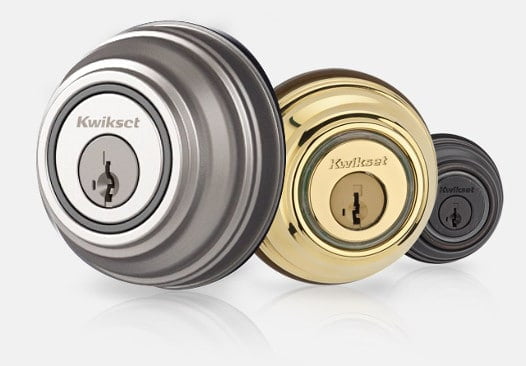 This is one of the first smart security door locks that have been introduced in Australia. This is also one of the most innovative that you can find in the market today, making it an ideal choice for modern homes and offices. With this lock, your life will surely be easier in ways more than one while also giving you the confidence that your property will be secured.
Among other things, one of the reasons why we recommend this model is its Touch-to-Open technology. All that you need to do is touch the lock with your finger, and it will automatically open up, allowing you to ditch your keys. The good news is that you can assign multiple users, making it perfect for business establishments with multiple employees. With Smart Key and Smart Encryption technologies, unauthorised access is not a thing that you should be worried about.
For more information, visit Kwikset's website.
Yale Real Living Z-Wave Touch screen Deadbolt Lock
If you are looking for the safest security door locks for your home or office in Brisbane or Logan City, among other parts of Australia, this is another option that should not be missed. One of the best things about this model is that it does not come with keys, which means that having it opened will be hassle-free on your end.
There is an endless list of things that you will love about this product. It comes with a sophisticated design, which makes it an ideal pick for those who have modern homes or offices. Aside from the design, it has a durable touch screen and a tamper-resistant touchpad, which increases the level of security that it can provide. The touch screen is also illuminated to make it easy to use even at night. The installation is also hassle-free, but you can always ask the help of a locksmith within the area to make sure that it is going to be properly installed.
For more information, visit Yale's website.
Austral Ultimate XC
Since Austral has been established, it became one of the most popular names in the market for security door locks. The Ultimate XC is a mortise lock, which is preferred by many because this type is the one that can provide the highest level of security for any property. Whether it is for the home or office, this will surely prove to be an excellent investment to prevent unauthorised access.
Among others, one of the most notable about this product is the pivoting beak, which is a technology that has been exclusively developed by the manufacturer. It also comes with jemmy resistant strike plate, which provides the reinforcement that is needed to eliminate the threat of forced entry. It also comes with a handle that has an ergonomic design, making it easy to close the door.
For more information, visit Austral's website.
Carbine CDL7
Carbine is another option that is popular in Brisbane and Logan City. If you ask any locksmith in the area, this is one brand that will often be recommended. The CDL7 is a digital lockset that is sure to immediately add a touch of sophistication in any door. Nonetheless, while this is an excellent choice for a safe lock, it is important to note that it should be limited in areas where human traffic is only light to medium.
One of the features that you will love about this lock is that it comes with an easy-to-use code changing system. It also has a reversible lever, which will allow you to have it installed for both left and right-handed users. It has satin chrome finish, which will make it an option that does not fall short when it comes to aesthetic appeal. A lot of those who have used this product also commended the ball-bearing style of the push buttons, which will make it less resistant to manipulation.
For more information, visit Carbine's website.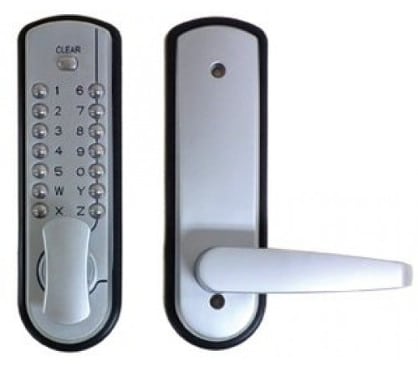 Lockwood Code Handle Keyless Lockset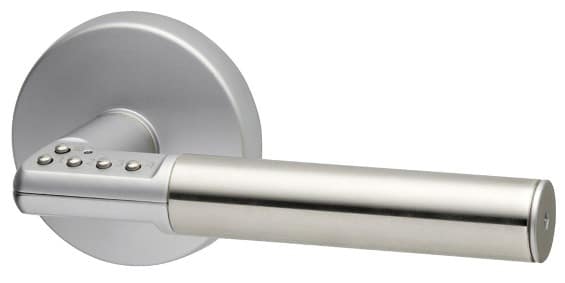 When evaluating the security door locks that are available in the market, most people would probably consider innovative design as a primary consideration. With this, there is no doubt that this model from Lockwood is one option that you should not miss. It has a sleek, handle-type design with easy to access buttons.
If you are looking for security door locks that can be used in Logan City and Brisbane homes and offices, this will make an ideal choice because it can allow multiple accesses without the need to have keys. It can be programmed with up to 9 user codes. The codes can range from 4 to 6 digits, which will make it more secured. Once the user has entered an incorrect code for five times, it will be locked out. It also has programmable administration code in order to control who will be able to change the programs. The durable stainless steel handle is also worth commending as it gives the lock a sleek finish.
For more information, visit Lockwood's website.
Whitco Tasman MK3 Security Door Lock
This mortice lock is another model that you should consider. As a trusted provider of locksmith services, we are confident that this is indeed one of the choices that you will not regret. Since this is a mortise lock, you can expect its highest level of security, making it not prone to unauthorised or forced access.
One of the features that we love about this lock is the Dual Select technology. You can choose the privacy lock mode, wherein keyed entry will be required from the outside, but the door can be easily opened from the inside without keying. Meanwhile, with deadlock mode, keying will be required from the inside to the outside. It is also made in accordance with Australian Standards, which will make you more confident about its quality. It also has an anti-jemmy bolt, which is a patented feature. Lastly, it can also be easily installed. If you do not have the patience to spare for its installation, you can always call a locksmith to do it for you.
For more information, visit Whitco's website.
Final Note
Even with the abundance of the security door locks that are available in the market, you should never make a decision in haste. To make your homes and offices in Brisbane, Logan City, and other parts of Australia secured, make sure to consider the models that we have mentioned above. If you need more assistance in choosing the right one, do not hesitate to give us a call. Our locksmith services will surely prove to be handy in ways more than one. More importantly, it can be enjoyed without the need to spend a lot. Affordable, dependable, and always available – these are the things that you can expect from our team.