No Need to Worry About Lost Keys
Anyone who has lost a key, had it break in a lock, or had it stolen will know the frustrations that come along with such a situation. Keyless door locks conveniently solve this problem.
There are many options available on the market these days when it comes to keyless locks. From combination locks to more advanced smart locks using wifi, Bluetooth or biometric data.
We provide various options to lock your doors using keys or keyless options. Some solutions are more suited to residential properties while others are more practical for commercial premises.
Not sure what keyless locks will be suitable for your property? Talk with our experienced team today.
Here are some popular keyless door locks that are suitable for internal use.
Carbine CDL7
The CDL7 is a digital lockset from Carbine that is sure to immediately add a touch of sophistication in any door.
While this is an excellent choice for a safe lock, it is important to note that it should be limited to areas where human traffic is only light to medium.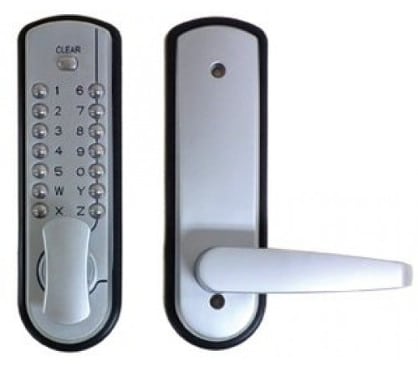 One of the features that you will love about this lock is that it comes with an easy-to-use code changing system. It also has a reversible lever, which will allow you to have it installed for both left and right-handed users.
With a satin chrome finish, it is an option that does not fall short when it comes to aesthetic appeal.
A lot of those who have used this product also commended the ball-bearing style of the pushbuttons, which will make it less resistant to manipulation.
Lockwood Code Handle Keyless Lockset
This durable and sleek stainless steel handle design from Lockwood has easy to access buttons.
It can be programmed with up to 9 user codes. The codes can range from 4 to 6 digits, which will make it more secure. Once the user has entered an incorrect code five times, it will be completely locked out.
It also has a programmable administration code in order to control who will be able to change the programs.